In
my last post
, I briefly mentioned the possibility of a Warriors/Timberwolves deal for Kevin Garnett already in place that could not be consummated because of collective bargaining rules. Since the time of the post, I've thought about that idea some more, and the more I think about it the more it seems possible.
Before jumping into the possible reasons for the stealth trade, I should note that I'm far from the only one to consider this possibility. I've seen quite a few mentions of the idea over at
Golden State of Mind
over the last few weeks, and just today Warriors play-by-play announcer (and, for those who remember him since his first years in broadcasting, the best sports radio call-in host ever) Bob Fitzgerald strongly hinted at the possibility (although it was unclear if he had inside information) on
his KNBR radio show
(they only archive interviews, unfortunately, but it was on Monday around 1:30 pm) this afternoon. I'm also sure the Merc's Tim Kawakami wrote something of the sort in
one of his 46732 articles/posts
on Garnett this summer, although I did not dig through his archives for confirmation.
Now, enough of my yappin! Let's boogie:
Brandan Wright signed earlier than most rookies.
Players cannot be traded within 30 days of signing new contracts, so to get a deal done featuring Wright (a likely prospect given his potential) in the next month or so, he would have had to sign relatively early, which in his case
happened to be July 6th
. The timing of this deal seems particularly odd given that the Warriors made no clear effort to sign fellow first-rounder and
longtime
Plissken
Hero
Marco Belinelli, who
just signed Monday
, at the same time. One possible hole in this piece of evidence is that Utah Jazz rookie
Morris Almond signed on the same day
as Wright, and no one has been arguing that Almond's going to be traded soon.
Brandan Wright didn't play in Vegas.
Reports surfaced on
the Friday before summer league
that Wright would be held out of the games in Vegas with a strained hip flexor. Apparently he sustained the injury in April while working out with UNC teammates, but he still followed through with workouts, which makes some sense given that he was trying to get drafted in the Top 5. If there's already a deal in place, the reasoning goes that (1) the Wolves and Warriors would want him to stay out of action so he wouldn't get hurt badly and (2) the Warriors would want him to stay out of action so as to not show that he actually stinks. The first reason makes sense; the second is largely garbage because it's summer league and everyone realizes that it's hard to get a read on players. (Does anyone honestly believe that Oden will foul out of every game?)
I'm inclined to believe that injuries are real because of the consequences of assuming they're not, but it bears noting that in
this Jay Bilas article
(ESPN Insider, unfortunately) from before the draft, he mentions nothing of Wright seeming hurt. Of course, this is Bilas we're talking about, so it could just be that he was really excited to be in a position of authority—no matter that the event was orchestrated by EA Sports and therefore promotional in nature—and therefore didn't pay much attention to Wright outside of his incredible length. Conspiracy theorists should also note that the announcement of Wright's injury came on the same day he signed his contract.
The Warriors haven't done much of anything after the Richardson trade.
After the draft night deal, Golden State
seemed in prime position
to make a big-time move with the trade exception and new long-term cap flexibility, but, as I said in my last post, they haven't seemed to actively pursue several players that would seem to fit. (They did contact both Darko and Gerald, but the subsequent lack of discussion makes those calls seem perfunctory.) The idea could be that Mullin has a deal worked out for KG and thus can't do any more fiddling until he has pieces to fiddle with.
This possibility actually hints at what the secret deal could be. The Warriors haven't been running after many big men, so Andris Biedrins likely wouldn't involved. But, then again, the Warriors haven't really done anything other than resign Kelenna Azubuike, so should that lead us to assume that Monta Ellis wouldn't be traded either? Seems unlikely.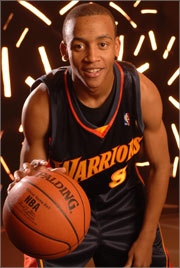 Kevin McHale went fishing.
Several reports have stated that McHale went on a long fishing trip recently, suggesting that he has no more work to do until a presumed Garnett deal goes through. I think this piece of evidence is pretty silly, so let me start with the most obvious rebuttal: Kevin McHale is an awful general manager. What makes you think he wouldn't go away and choose not to be in close proximity to his most trusted advisors when the face of the franchise is on the market? We're talking about the guy who paid JOE SMITH a gargantuan deal under the table!
While I would question any decision to leave Minneapolis during that time, we should also remember that we live in a digital world. It's not as if McHale can't communicate with the rest of the front office by way of cellular telephone (he may even have a landline in his cabin!) or the internet online. Unless, of course, he's in one of those ice fishing huts on a still-frozen lake somewhere. I wouldn't rule that out.
Baron Davis has been very quiet.
One would assume that Baron would have something incendiary to say about the J-Rich trade given that they're good friends and ostensible running mates. A gift-wrapped KG would obviously shut him up some. But maybe Baron realizes that Nelson is one coach he can't drive out of town, and the situation he has in Oakland is something he probably shouldn't try to screw up.
There's also the fact that
Baron's been going to weddings in France with Jessica Alba
, so who really gives a shit if J-Rich got traded.
In the end, I'm not really sure this evidence adds up to a likely stealth deal, but I'm also not ready to dismiss it. When the draft dust settled, the Warriors seemed to be ready to pounce on something big this offseason, and the period of silence does not seem to jive with that feeling. Or maybe we're all just trying to explain away our disappointment that no big deals have been announced. Either way, I'm marking off the days. By my count, we've got until August 5th for Wright's 30 days to run out.